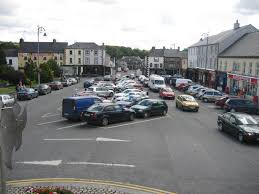 The Streams of Bunclody Festival is being officially opened by Renowned Singer \Song writer Nial Toner on Friday 21st July at 9.00pm in ArtBank, Main street, Bunclody.
To be followed  at 9.45pm by a Fire and Musical spectacle. Courtesy of The Fairy and The Fiddler.
At 8.00pm it is opening it's Mid Summer exhibition in the main gallery displaying work of 29 artists from counties Wexford, Carlow and Kilkenny. For the first time has 2 solo shows running as well. In the Branch Manager's Office Trudi Doyle's exhibition runs from 17th to 29th July and in the vault Caoimhe Dunn's show runs from 18th to 29th July
Saturday 22nd sees the Square being turned into a market by Artisan food producers and Bunclody Saturday market, from 10.00 to 5.00pm.
From 11.00 there is a Children's puppet workshop in Bunclody Library, by Julie-Rose McCormmick.
11.00 Newtownbarry house as part of the Carlow Garden Festival. Garden talk by Jane Fearnley-Whittingstall
Throughout the afternoon there are Street entertainers,. Buskers, bands and, a circus skills workshop in the Square, on the Mall and outside Sam McCauley's Pharmacy.
The evening entertainment is in the Millrace from 8 to midnight with The 7th Fret, Wexford band followed by an 80's disco.
Sunday 23rd Newtownbarry house is the location for an afternoon of Yoga, Music and song, Wine tasting and Jugglers with The Fairy and The Fiddler returning to close the festival.