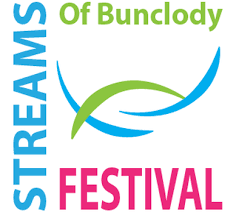 Her Imperial Majesty, Queen of Hearts welcomes your attendance at the Streams of Bunclody Community Festival from 20th to 22nd of July 2018 with the theme decreed by Her Imperial Majesty of, Alice in Bunclody.
Friday 20th of July
On Friday we invite you to welcome Her Royalness and Her entourage into Bunclody at 8pm by wat of a Procession that befits out Queen of Hearts.
On Her Imperial Majesty's arrival to the Market Square we will all be dazzled by the Court Entertainers presenting a Spectacular Street Spectacle!
Saturday 21st of July
Saturday has been graced as The Royal Market Day. You will find the young and old enjoying the beguiling Royal Entertainers perform tricks, acrobatics and tomfoolery of Worlde class. Artisan producers will peddle their wares and workshops are available to the public in clay work and chairs! Our Blackstars Farmers will be holding an exhibition of 'Life on the Hill'.
On the Saturday evening in St. Aidan's Hall and for the most excellent price of €15, Her Majesty's Players will rarely perform their Irish musical 'Across Blue Waters'. The play intertwines five love stories, the end of a rebellion, some intrigue, deception and greed. Doors 7:30pm for 8pm.
Sunday 22nd of July
Sunday is family Fun Day. The grounds of Bunclody Vocational College are transformed into the Court of the Queen of Hearts with Fantasy Croquette, a Mad Hatter's Magical Tea Party and the Royal performers geometrically gyrating magical mayhem and audacious acrobatics – not to mention fire.
On the Sunday evening there is another opportunity to watch the Irish Musical, 'Across Blue Waters' in St. Aidan's Hall. Doors 7:30pm for 8pm. Rickets €15.
Oh, and I nearly forgot! Alice and her friend The Cheshire Cat are around all week, and you will have to look carefully to find them. A small clue is that they . See how many you can find and be in a draw for a prize. Get your Seekers forms from the Tourist Office.
Now, go enjoy the Festival. Mind your heads!